Water Damage
We understand that flooding is a stressful experience and go out of our way to ensure that the restoration goes as smoothly and easily as possible. On every job a lead technician is assigned to communicate with you and keep you informed about the drying, clean up and restoration processes, to answer your questions, and to provide any information or assistance that will give you peace of mind.

From a patch of water-stained carpet to warehouses several feet underwater, Sanitech has the experience to quickly assess what can be done, the training and equipment to execute the job and the desire to see every job done to your satisfaction.

Torpedo Factory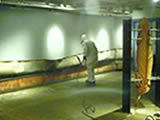 In the wake of Hurricane Isabel in 2003, the artists and artisans of The Torpedo Factory in Old Town Alexandria chose Sanitech for their water damage restoration, as did a number of other businesses along the Potomac waterfront. As residents of Alexandria, we hope never to experience such flooding again, but we were honored to be of service to our neighbors and friends.

---